"Injustice anywhere is a threat to justice everywhere". Rev Martin Luther King, Jr, 1929-1968. (VANGUARD BOOK OF QUOTATIONS p 104).
Seldom does a commentator find himself in a position of the defender of a big and strong multi-national organisation. Organisations, especially a global bank, in its legal battle with an individual, are generally assumed to be the aggressors. When Justice Oliver Wendell Holmes, Snr, 1809-1894, in exasperation, exclaimed that, "An organisation has no pants to kick and no soul to damn.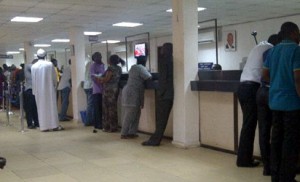 And, by God, it should have both", he was only echoing the seeming helplessness of individuals when fighting against big organisations. However, like most axioms, there are exceptions to the conventional wisdom. Truth is, sometimes, the giant organisation becomes a victim of the individual – under certain circumstances.
Banks, particularly, are prone to becoming victims to customers refusing to repay the loans granted them; and who still go to court to prevent the bank from obtaining justice. The courts globally are inundated with such law suits. Perhaps, one example of a large global organisation being a prey to questionable court judgment occurred recently in the West African nation of Togo.
A court in Togo awarded Mr Thierry Tanoh, the former Group Chief Executive Officer, GCEO, $11.6 million on February 3, 2015, for alleged wrongful dismissal, by ECOBANK TRANSNATIONAL INCORPORATED, ETI. Ordinarily, that should not have attracted any notice, apart from the size of the settlement – which is probably far more than Mr Tanoh would have earned as his legitimate remuneration package from the bank if he had completed his tenure twice.
ECOBANK, predictably, had given notice of appeal of the court ruling. The bank has announced as follows: "ETI does not accept the legitimacy of the Togolese court's ruling because the court does not have legal jurisdiction over Mr Tanoh's employment contract". And, indeed, there is a contract, clauses 26 and 28 of which read as follows:
Arbitration.
"Any and all disputes, controversies or claims arising under or in connection with this Agreement, including without limitation, fraud in inducement of this Agreement, or the general validity or enforceability of this Agreement shall be submitted to binding arbitration before one arbitrator to be selected by mutual agreement of the parties, or failing mutual agreement, to be appointed by the President of the International Chamber of Commerce in Paris, France.
The arbitration shall be conducted in London, England under the UNCITRAL Rules, and the award of the arbitrator is to be final and enforceable in the courts of England. Irrespective of the outcome of the arbitration, it is hereby agreed that parties shall each bear their own costs.
Governing Law and Jurisdiction.
"This Agreement shall be governed by the laws of England, and, subject to clause 26 above, the parties hereby submit to the exclusive jurisdiction of the English Courts".
Even those not trained in law should be able to understand those two statements, whose authors must have gone to great pains to render them simple, straight forward and elegant in draft.
The reader might now be wondering what is our business with the ECOBANK judgment. The first reason for this intervention has already been stated in the statement by Dr Martin Luther King, Jr. The quest for justice is universal and it should be all-inclusive. Nobody, individual or corporate citizen, should be discriminated against, on account of nationality or size.
ECOBANK operates in 36 countries, but ECOBANK NIGERIA LIMITED is the biggest unit. Millions of Nigerians, as well as foreigners in many countries, are also shareholders, and, therefore, stakeholders. It is their $11.6 million which had been awarded to Mr Tanoh, an Ivorian, in Togo. Global stakeholders have a stake in seeing to it that justice is done.
And that means to ECOBANK as well as to Mr Tanoh. Given the two clauses quoted above, it is not clear that judgment had been obtained in the right place. Jurisdiction remains an important component of any litigation anywhere in the world. As a corollary to that, it needs to be pointed out that several "Nigerian" firms – First Bank, UBA, Zenith, ACCESS, DANGOTE etc – have also become transnational. Any of them could fall prey to judgments obtained from local courts lacking jurisdiction to entertain the cases.
Once, the Togo judgment is allowed to stand it could create an avoidable bad precedent for employees of multi-national organisations in Africa to seek legal redress in any complaisant country – even when the terms of their agreements have ousted the jurisdiction of domestic courts. No African nation must give the impression that we have added legalised "jungle justice" to our long list of vices.
VANGUARD