A bronze sculpture of a cockerel that adorned a Cambridge University dining room is among a huge haul of looted antiquities that may now be returned to west Africa.
The British Museum will take part in a European summit to discuss the return of art seized from the Benin kingdom, now part of southern Nigeria, by a British punitive expedition in 1897 as "reparations" after it defied the British empire by imposing customs duties.
Among the looted sculptures is the bronze cockerel known as the Okukor, which was removed from public view earlier this year after Cambridge students called for it to be returned to west Africa. However, it was confirmed last week that the cockerel remains at the university. The fate of hundreds of other "Benin bronzes", housed in institutions such as the British Museum, will be discussed by curators when the group meets next year at the Netherlands' National Museum of Ethnology in Leiden.
"I think that among this generation of curators there is an eagerness to find ways towards reconciliation," said Dr Michael Barrett, senior curator at Stockholm's Världskulturmuseet. "We are one of the smaller participants in this and it is very early but we are eager to continue with discussions."
Among the issues still to be resolved are insurance costs and security arrangements. European curators and their west African counterparts are also keen to establish a legal framework that would guarantee the artefacts immunity from seizure in Nigeria.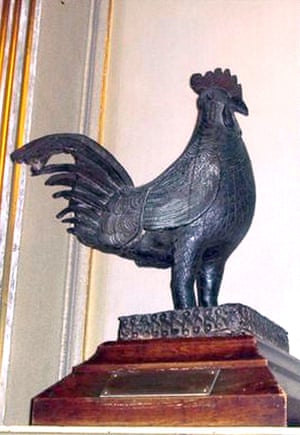 Aside from cost, concerns about security were also foremost in the minds of European institutions, he said. "There has to be some sort of negotiation and a recognition perhaps that things are on long-term loan from Nigeria."
Picton said that many people were unaware that the largest collection of antiquities from the 19th-century looting of Benin was in the Ethnological Museum of Berlin, while the second largest was in the British Museum.
A British Museum spokesman said it had not received a formal request to loan objects to Nigeria for any specific project but remained in dialogue with the National Commission for Museums and Monuments in Nigeria, and was willing to consider any specific proposals.
Kwame Opoku, a Ghanian writer and former UN legal adviser, blogged: "Most of the artefacts displayed appear inferior in quality to Nigerian artefacts that are in western museums, in Boston, London, Berlin, Paris and elsewhere. One might even wonder if they are not fakes."
He added: "One thing this exhibition confirms abundantly is that the policy of quiet diplomacy that has been pursued by Nigerian authorities since independence in 1960 has completely failed."
Cambridge University said in a statement that it supported the establishment of a permanent display in Benin City, featuring material rotated from a consortium of European museums. "Given the scale of the collection worldwide, we believe that collective discussion and engagement will achieve more than independent action."
IMPERIAL PILLAGE
British traders were furious that Oba (King) Ovonramwen, ruler of the still independent territory, had defied the empire and was demanding customs duties from them. Outrage back home in the UK was fuelled when a group of officers dispatched to see the Oba on the orders of the governor of Britain's west African Niger Coast Protectorate were ambushed and killed. Two months later 1,200 British troops and protectorate forces led by Sir Harry Rawson were sent to the kingdom, where they destroyed Benin City and looted thousands of works of art and other treasures.
A steady trade in the objects led to them being scattered around Europe – with a large haul ending up in Germany. Significant artefacts such as the 16th-century cast bronze head of a young woman, probably representing Benin's Queen Idia, ended up in the British Museum.