The APC Candidate has been on a tour of the UK, chaperoned by his political campaign advisers Dr. Kayode Fayemi and Mr. Chibuike Amaechi. Two things are rather immediately clear from Buhari's UK tours: one, the APC presidential candidate has been forced to sup on bitter gravy over lingering animosities with Britain following the Umaru Dikko affair. This trip it seems is in part, made on bended knees. Is this Buhari's attempt to bury the ghost of the past and any other hatchets with Great Britain?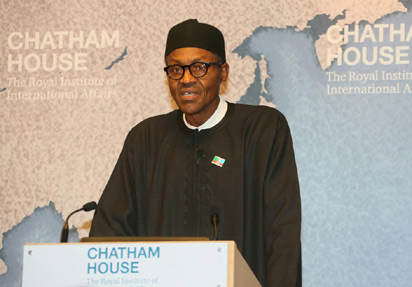 Was his meetings with Tony Blair and others in the UK's political establishment a way of opening long sealed channels? Buhari had also used his hastily arranged talk at London's Chatham House, to briefly outline the still sketchy architecture of his foreign policy.
The message is, Nigeria will maintain its status quo, looking Westwards for patronage; will not upset any apple carts with good old Britain, and where any may have been upset, particularly with growing trade with China, now seen as a threat because of China's increasing importance as Nigeria's biggest business partner in certain international circles, the Buhari presidency will normalize and redirect it, and possibly guarantee and secure Britain's old and longstanding political and commercial interests in Nigeria.
I speculate of course, but that seems to me quite clearly the signals in these meetings in London by a Nigerian Presidential aspirant who should be at home campaigning to Nigerians in an election that many polls now increasing suggest is just too close to call. What rather riles me is the continuing symbolism of Nigeria's dependency and status as a minion nation – although it calls itself "the giant of Africa" – its "biggest economy after rebasing" or some such crumminess. In the midst of a political campaign, a Nigerian political leader and presidential aspirant does not have to take off time to go and appeal to British and foreign interests in order to gain legitimacy. That is the powerful symbolism that Buhari's London trip has registered in the minds of the Nigerian electorate.
There is no doubt that London still carries some weight in the Nigerian political mind and imagination. But, perhaps somebody, particularly from the APC should enlighten me a bit more, because I personally do not understand it, and I'm sure millions of Nigerians do not either: is Nigeria still UK's colonial possession?
It may be seen as pragmatic and necessary by Buhari's handlers to drag the man off to London in the midst of a very bruising campaign, so he could kiss some rings and possibly worse, kiss certain old posteriors that have done nothing but fart on Nigeria since 1914. Even so, the trip was shabbily arranged, even if its symbolism is ultimately bruising to the Buhari image.
No political leader of weight in the UK rolled out the carpet to receive him. Not a single audience with the British Prime Minister, Mr. David Cameron, nor with the leader of the largest parliamentary opposition, Ed Milliband. Just an audience with Tony Blair, a has-been political weight; former Prime Minister and now Businessman and international consultant, who may sit for a photo-op for a good fee.
Buhari did not even stop to pump the hands, or meet and address any significant groups with the significant Nigerian community in the UK, just some scanty do in a very crummy dance hall, arranged by Dele Momodu, who made his name on the party circuit, and who could organize a quickie at the drop of a hat for a good price. Even the talk in Chatham House was hurriedly arranged, and had all the signs of an after-thought. The attendance had not the high and mighty of the UK foreign office or business and investment community.
The hall echoed with much emptiness. Basically, Buhari was snubbed by the British political and media establishment. I should rather think that if General Buhari wished to unroll the outlines of his foreign policy, and reassure Nigeria's key international partners, a significant event could have been arranged for such a thing at the Nigerian Institute of International Affairs (NIIA) on Victoria Island, and that would have had more weight; and could have convinced Nigerians that Buhari at least takes Nigeria and Nigerians seriously, and that he is not going to be a push-over, dragged hither-and-thither, by his handlers who seem to have their heads in the UK, but their feet in Nigeria trampling on it; and in this event, have been nothing more than ring masters in a political circus. I should add that Buhari's fundamentally inexplicable trip to London, at the height of his presidential campaign has rightly raised much questions; and speculation is indeed rife about the true nature of his business in London.
It has ignited rumours about the true health of the APC flagbearer. The question of Mr. Buhari's health is not to be easily dismissed, because if the former General and military head of state wants to govern, he must be seen to be fit. At his age, nothing should be left to chance. Besides, Nigeria does not want to have a repeat of the Umaru Yar Adua situation so soon again. It is true however, that his former military coursemate in Aldershot in 1961/62, J.C. Ojukwu in an interview recently described Buhari as "tough and fit" and to such an extent that earned him the name, "mountain goat" during their military trainings, for his resilience often belied in his wiry frame.
Yet, it is important for Buhari and his campaign to put to rest quickly, matters of this rumour about Buhari's health, the most egregious of which is the circulation in the Nigerian on-line discourse community that the General may have been diagnosed with testicular cancer! Before the elections, Buhari's personal physician must give Nigerians evidence that these rumours are nothing but, and swear to a clean bill of health for the APC aspirant. But let me also quickly say here, that looking at Buhari in all his bearings, whether in meetings with John Kerry in Abuja, or Tony Blair in London, he looked presidential.
He carried himself with a lot of dignity and there is no inkling either of a physical or mental malfunctioning. At 73, the man looks quite good; lean and agile, and seems to me in ruddy good health. His speech at Chatham House was also apt, eloquent, enlightened and well delivered, and ought to put finally to shame those who continue to Fani-Kayak about his High school education. A central policy argument Buhari proposes in that speech is that under the PDP government of the last sixteen years, Nigeria has indeed prospered, but prosperity has not reached 99% of Nigerians, but has been mostly to the benefit of a very small group who have gained from the privatization of Nigeria.
He advances the argument that though his administration, if elected, will encourage free enterprise, there will be government regulatory intervention to give every Nigerian a fair chance at prosperity and a good life, not just the less than one percent, whom economic "rebasing" has long favoured. This is music to my ears. But it is music that should be played in Nigeria, in a debate with the current president. Buhari should not be saying this in Chatham House, London, but in a presidential debate with the incumbent President Jonathan.
His party's decision to shield him from a debate with his opponent, and Buhari's unwillingness to debate Jonathan, smacks to the Nigerian public imagination as utter disregard for Nigerians whom he canvasses to lead "from the front," and reminds Nigerians of his disdain for the Oputa Truth Commission invitation in 1999. If Buhari wants to govern Nigeria and wants to be trusted, he must not govern from Chatham house. Nigeria, after all has a National Institute of International Affairs, and it should not be beneath Buhari to address Nigerian political issues from there.
VANGUARD