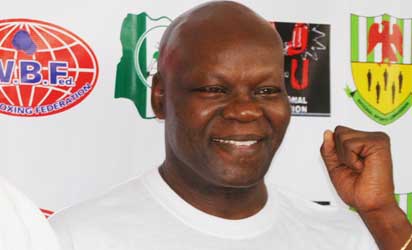 It is hard to kill a man's dreams, no matter how many times he's thrown into the furnace. He will emerge though scald but not bowed. Such is the fate of the Nigerian boxer, Bash Ali. His dream to break the Guinness World Record Fight has and is still hitting brick walls. The boxer has been moving from pillar to post since Obasanjo's regime to achieve this feat. But the wheels of fortune was about to change when he shared his dream with the incumbent government. Gathering financial support from the Subsidy Re-Investment and Empowerment Programme
(SURE-P). Chairman, Gen. Martin-Luther Agwai, Ali's dream of being the oldest man to win a title in the Guinness World Record shone brightly. But like dark clouds on a sunny day, Ali's ambition is yet to see the light of the day.  Moreso, the boxer faced setbacks from other groups that cried out that it is a waste of money on the boxer and questioned his integrity. Born Bashiru Ali, the boxer has an enviable record as the World Boxing Federation (WBF) cruiserweight champion. He is also known for his unbeatable record of winning his cruiserweight fights. His fiery passion for boxing made him to stay away from the marital life, choosing instead to live as a bachelor, although there are speculations that the boxer is secretly married and his family is residing in the States. His recent squabble with the Nigerian Export-Import Bank is one of the few that both parties have encountered in the recent past.
Ali claims that the bank is deliberately withholding the sum of $30 million which was allocated to him by the president to support his cause because they wanted a cut in what may be described as the National cake. The bank on the other hand is accusing Ali of misdemeanors. Once again, as he marked his 59th birthday in incarceration, the boxer deployed his communication tactics to plead to Nigerians to help him fight the corruption that is threatening to swallow his dreams.  While many may see the behaviour of the boxer as nuisance, the boxer is simply being driven by a powerful force to win this title which by the way, had made him to travel far and near to secure this title for his country, despite the drooling offers that was laid on his feet. Another Nigerian, David Adjarho who got the title World Wrapper Man by tying the longest wrapper 37 yards in the world, suffers the same fate. Till date, there is no record of him in the Guinness World Record. It is yet to be known if these acts of promoting the country's image are commendable or another waste of resources.